Two geotechnical students awarded prestigious fellowships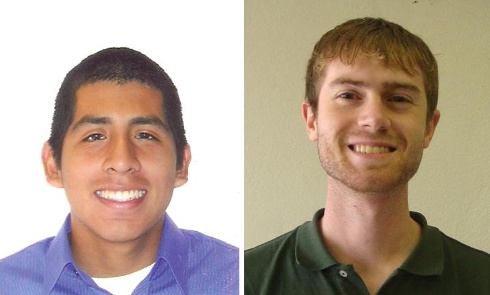 Two students working under Dr. Russell Green in the area of geotechnical engineering were recently awarded two prestigious fellowships to perform research overseas.
Mr. Brett Maurer was recently awarded a 2012 National Science Foundation East Asia and Pacific Summer Institutes (EAPSI) fellowship. Brett will spend eight weeks (June to August 2012) performing research at the University of Canterbury in Christchurch, New Zealand.  His research will focus on the development of a reliable index for evaluating the damage potential of earthquake-induced soil liquefaction. The index will utilize data from the recent series of damaging earthquakes in Christchurch and will facilitate future liquefaction hazard risk evaluations around the world. Brett's research will be guided by Dr. Misko Cubrinovski, University of Canterbury, and Dr. Russell Green, Virginia Tech.
The NSF EAPSI program provides funding for U.S. graduate students in science and engineering to perform research in Australia, China, Japan, Korea, New Zealand, Singapore, and Taiwan. The goals of the EAPSI program are to introduce students to East Asia and Pacific science and engineering in the context of a research setting, and to help students initiate scientific relationships that will better enable future collaboration with foreign counterparts. Awardees carry out an eight week research project at host laboratories and cultivate personal relationships with their foreign counterparts. Brett is currently a doctoral student in the Geotechnical Engineering Program at Virginia Tech.
Mr. Christian Olivera was awarded a 2012-2013 Leifur Eiriksson Fellowship by the Leifur Eiriksson Foundation.  The Foundation funds scholars from U.S. universities for graduate research or study at universities in Iceland, and scholars from universities in Iceland to conduct research or study at universities in the United States. Christian will be spending the 2012-2013 academic year performing research at the University of Iceland's Earthquake Engineering Research Centre (EERC) in Selfoss, Iceland.  His research will focus on the use of H/V spectral ratios in site specific seismic hazard analyses, using data collected from the 2008, M6.3 Olfus earthquake as a case study. Christian will be performing the research under the direction of Dr. Benedikt Halldorsson, EERC, and Dr. Russell Green, Virginia Tech.
The mission of the Leifur Eiriksson Foundation is exclusively for charitable, literary, educational, and scientific purposes and for providing recognition and financial assistance to further scholarly study and research. The Foundation was established in 2001 and is governed by a board of trustees appointed by the Central Bank of Iceland, the Icelandic Government, and the University of Virginia. Recipients are chosen by the Foundation's Board of Trustees. Up to $25,000 in project costs, including travel to and from the research or study site will be paid on the scholar's behalf.